With all that is at stake when deciding your next housing move, nobody wants to make the wrong decision. There are lots to think about, so before you begin your online search or head out to drive your dream neighborhood looking for "For Sale" signs, we recommend you sit down first and make a list of what's most important to you when it comes to how you want to live.


Bedroom count, square footage and monthly payments are all important items to have on your list, but going a bit deeper than the basics will help you focus your search in ways that could have a profound impact on the rest of your life. As you pull together your list, here are a few things you might want to consider.
A neighborhood you can grow into over time
If you have a specific neighborhood in mind already, how long do you think you'll be able to stay in the same home in that neighborhood before your circumstances change and you'll need to move again? A lot of neighborhoods are filled with homes that are roughly the same size and appeal to roughly the same demographic. While this might be a plus when you first move in, your situation will change and evolve over time.
Families grow, kids get older and move out and when housing needs change, people often find themselves in a situation where the home they live in no longer works for them, but they have deep roots in the neighborhood they don't want to break. Friends, neighbors, schools or favorite places to eat and shop are a big part of our everyday lives.
Many newer neighborhoods like Daybreak feature a wider range of housing options all in the same neighborhood so as your lifestyle changes over time, you can move to a new home in the same neighborhood without disrupting those important relationships and routines. Additionally, many young people are priced out of the neighborhoods that are close to friends and family. When neighborhoods offer a variety of home choices, it allows families to stay relatively closer together.
Evaluate how you want to spend your time
While the idea of the big backyard might appeal to you because it's what you are used to or it's how you grew up, it's important to be clear-eyed about the time and effort it takes to keep up a large yard (not to mention the additional costs involved, like water and increased property taxes). If you're like many people, you'd rather spend your free time doing the things you love or crossing things off your bucket list.
Owning a home in a neighborhood with a smaller yard and more public amenities gives you the best of both worlds. You'll find places to relax, walk the dog, or let the kids burn off some energy without the all the maintenance. You may even consider a super low maintenance townhome that allows you full lock-and-leave convenience when it's time for an impromptu road trip or extended vacation.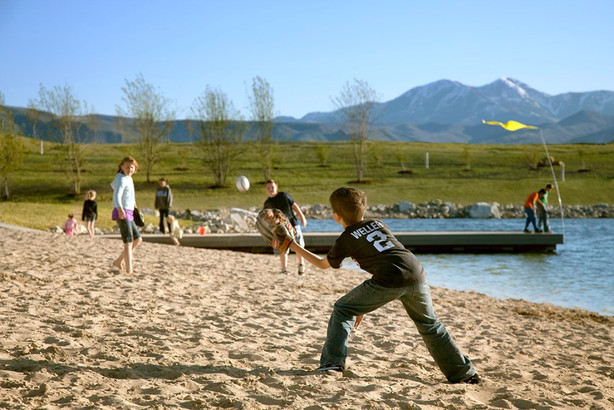 New or Used
Inventories of existing homes are at historic lows right now, and many Realtors are struggling to help clients find what they are looking for. More than ever, they are turning to new homes to fulfill their clients' wish lists.


While there are deals to be found in the existing home market, you'll need to be very patient and expect competition from other house hunters. Even then, you might not find a home that gives you everything you want because, in the end, you are choosing to accept someone else's preferences—in colors, materials, layout etc.—or you need to invest thousands of additional dollars and weeks to months of time in renovations. The advantage of buying a new home is being able to select a floorplan that works for your family without making major concessions from your list of must haves.
If you'd like to get a good sense for current trends or see many available homes all in one day, come tour the homes at Daybreak. With over 20 model homes and a variety of homes ready for quick move in, there are several options to choose from.
This article with a few modifications originally appeared on KSL.com, you can view the original article here.